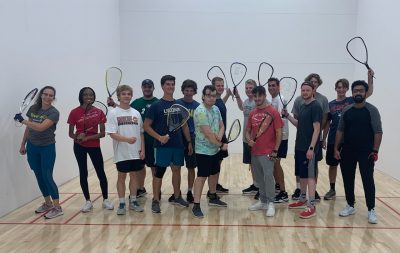 Vice President – Lydia Andusko
General Info
Welcome to the University of Connecticut Club Racquetball Team website! Our team has over 25 members, men and women, and the top players travel and compete at 5 tournaments over the school year. Throughout these tournaments, hosted by the Eastern Collegiate Racquetball Conference, UConn has historically placed as one of the top teams since it was created in 2008. In both the regular 2016-2017 season and the regional tournament, we took first place in both the overall and women's division and second place in the men's division. Along with that we swept the floor with awards in the Team Spirit Award, the first Coach's award, MVP, Most Improved Player, and Newcomer of the Year. Since then we have won the Overall title in the 2017-2018, 2018-2019, and 2019-2020 seasons (that's four in a row!) and won the regional tournament in the 2018 and 2019.
We meet two times a week, Mondays and Wednesdays from 6-7:45pm. All practices are held in the Student Recreation Center.
Our team competes in the Eastern Collegiate Racquetball Conference, which hosts four regular season tournaments each academic year and one additional regional and national tournament, both held at the end of the season. In addition, the team participates in non-collegiate tournaments where players of all ages and skill levels compete.
We are always looking for new players of all skill levels in the UConn community to join us. Most new members have never played before so don't worry if you're on that same boat and are still interested. If you have any questions, please do not hesitate to contact one of the officers. We hope to see you soon!
Men's Captain – Max Mueller
Women's Captain – Lauren Dougher
Student Rec Center
Phone:
(860)486-0002
Address:
UConn Student Recreation Center
University of Connecticut
2060 Hillside Road
Unit-1273
Storrs, CT 06269